>THE ROYAL GAZZETTE

Justice/Abyss on Pay-Per-View AGAIN!

Prince Justice returned to NWA-TNA last Wednesday night, appearing as Abyss and aligning himself with Kid Kash. The staff at BoneKrushers National Pro Wrestling Training Center, where Justice was trained, is ecstatic of this tremendous talent's success. From NWF to Puerto Rico to Pay-Per-View . . . what's next for this big man?
Justice in Puerto Rico!

Prince Justice.com has just received word from Puerto Rico that the plane has landed, and that Justice is prepared to compete with other International superstars in the IWA. Such wrestling personalities as Dutch Mantel, Savio Vega, and others are also in the IWA. Way to go, Justice!

Prince Justice on Pay-Per-View!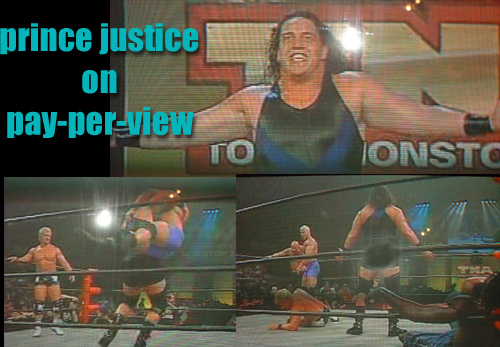 Justice made an impressive debut on the inaugural NWA TNA PPV. He took on the likes of Jeff Jarrett, Konnan, and Rick Steiner, who clotheslined him out of the ring. He was able to hit the Royal Decree on Del Rios, and definitely impressed many people in his PPV debut. For more information, click here.

PRINCE TO RETURN TO NWF FULL TIME!!!!!

In shocking news released earlier this week by PRINCEJUSTICE.COM, Prince Justice has issued a statement and press release indicating his imminent return to the Northern Wrestling Federation (NWF) effective September 15, 2001. Prince Justice met with NWF officials and owner Roger Ruffen this past week to iron out details and finalize contract points. Officials from PrinceJustice.com have confirmed that Prince Justice has indeed signed a multi-year contract to return exclusively to the NWF. Details of the contract and salary structure of the agreement are not being released at this time. More details will follow in the coming days, but NWF fans get ready because the royal Prince is back in town and he's here to stay!

The Prince has not been idle since his firing by Mr. Hayes. Upon leaving the NWF, Prince Justice began wrestling for some other noteworthy wrestling organizations continuing to make his mark on the professional wrestling world. He has been wrestling for The NWA (National Wrestling Alliance) in Nashville, TN (NWA WORLDWIDE), NWA WILDSIDE in Georgia, USA Championship Wrestling in Nashville, TN., Interstate Championship Wrestling (ICW) in Indianapolis, IN., Mountain Wrestling Association (MWA) in Lexington, KY, MECW, and for Jerry Lawler in Memphis, TN.

Prince Justice is currently ranked 8th in the NWA (National Wrestling Alliance) World Rankings and continues to climb!

Prince Justice was recently highlighted by Pro Wrestling 2001 Magazine for his efforts in NWA Wildside. The article includes a full color picture of Prince Justice and a write up regarding his title reign in NWA Georgia.

Look for information in the coming weeks regarding an auction of Prince Justice memorbilia and authentic ring attire right here on Prince Justice.com!!! You can own authentic Prince Justice attire and even bid on "Lunch with the Prince"! Keep checking back for more details soon!

Prince Justice would like to take the time to remember all of our fallen fellow Americans during this time of tragedy in our nation. May God Bless Us All during this troubling time and please keep safe all our brothers and sisters in the armed forces who are fighting for our rights to freedom. God Bless America!!!!!!